By Brendan LaChance on June 9, 2021
CASPER, Wyo. – High wind warnings and watches will go into effect Thursday and much of Cowboy State is expected to see wind gusts exceeding 60 mph.
Gusts of 65 mph will be possible in Natrona County, parts of Johnson County, the Cody foothills and the Wind River Basin, according to the Riverton National Weather Service. These areas will see a strong wind warning between 3 p.m. and 11 p.m. Thursday.
Strong gusts are also expected in the southwestern part of the state and areas east of the watershed. The Cheyenne NWS shared the following graph of wind watches and warnings that will take effect on Thursday, with winds expected to affect corridors I-25 and I-80:
The article continues below …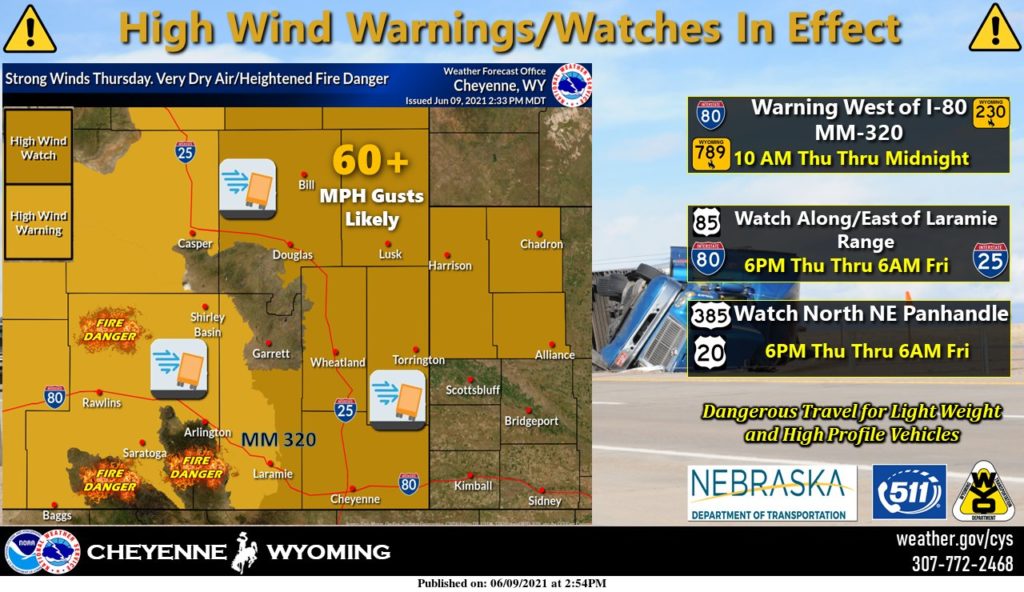 "Destructive winds can bring down trees and power lines," says Riverton's NWS. "Power cuts are possible. Travel will be difficult, especially for high-end vehicles. "
"People should avoid being outside in wooded areas and around trees and branches. If possible, stay in the lower levels of your home during the storm and avoid windows. Be careful if you have to drive.
Critical weather conditions for fires are also expected with estimated single digit relative humidity values.
Strong winds are expected as a cold front moves through the area. Casper is expected to see a high of nearly 90 degrees on Thursday, with the forecast high falling to 79 on Friday, according to the Riverton NWS.
Temperatures will start to rise again on Saturday and over the next week, with Sunday through Tuesday temperatures expected to be 15 to 20 degrees above normal in western and central Wyoming.
Stories related to Oil City News:
Source link