Top story: fears that some measures will extend beyond June 21
Hello, Warren Murray, we hope the holiday will allow you to relax in the week.
Scientists have warned ministers that a third wave of coronavirus may have started in Britain, casting doubt on plans in England to lift all lockdown restrictions on June 21, three weeks from now. Vaccines Minister Nadhim Zahawi refused to deny that some restrictions such as wearing masks and working from home could remain in place to reduce the spread of the virus. Senior Science Advisors believe that working from home makes sense beyond June whenever possible.
The number of age discrimination complaints brought to employment courts has increased dramatically in England and Wales since the Covid lockdown, according to an analysis. Layoffs among those over 50 have reached an all-time high and more than a million over 50s remain on leave, raising fears that their jobs are also in jeopardy. Stuart Lewis, founder of Rest Less, a job site for older people, said: "We know that once laid off, older workers are more likely to fall into long-term unemployment than their younger counterparts. Age is a legally protected characteristic … [but] we know that age is often the last form of tacit and accepted discrimination in the workplace. "
Nearly two million private tenants fear they will not be able to find alternative property if they lose their homes after the eviction ban is lifted this week, ministers warn, with a potential 'cliff edge' in the future. roaming in the coming months. And as the hospitality industry reopens, pubs, bars, nightclubs and more are grappling with a labor shortage, with up to 50% of some companies' staff not returning to their homes. work because they've moved on. . Check out our live blog for more Covid developments.
---
Bet on a little sun – Today could be the hottest day of the year so far, with temperatures expected to exceed 25 ° C on this bank holiday Monday. According to the Met Office, most parts of the country will experience a sunny, sunny morning and the sun is expected to continue into the afternoon. Clear skies are expected to stay overnight for much of England and Wales. Northern Ireland and parts of Scotland will see thicker clouds form but will remain largely dry. The sunny end of this month stands in stark contrast to the rest of May, which was much wetter and colder than usual. April was unusually dry and cold.
---
Netanyahu out? Israeli far-right politician Naftali Bennett and opposition leader Yair Lapid agreed to form a coalition government that would oust Prime Minister Benjamin Netanyahu after 12 consecutive years in power in which he survived attempts repeated to end his career. Bennett wants to annex most of the occupied West Bank, while Lapid is a former TV news anchor and self-proclaimed centrist popular with the country's secular middle class. If Lapid can bring in other parties within the next three days, he could inform President Reuven Rivlin that he thinks he can form a government and go to parliament, the Knesset, for a vote. Netanyahu called the deal the "rip-off of the century" – Bennett was his former ally and main aide. If Lapid does eventually fail to announce a government, a fifth Israeli election later this year is a possible outcome.
---
Cladding at risk of fire still on the rise – More than 70 schools have been fitted with combustible plastic foam insulation since it was banned from high-rise buildings after the Grenfell disaster. A study by insulation maker Rockwool also found that around 25 newly constructed hospitals, nursing homes and sheltered housing complexes were likely to have been built with combustible insulation. Geoff Barton, the secretary general of the Association of School and College Leaders, said it was "a source of major concern". The Education Department unveiled new fire safety proposals for schools that would continue to allow combustible siding on structures less than 18 meters in height.
---
Dordogne sniper hunting – French police continued to search for a heavily armed former soldier who allegedly opened fire when police officers surrendered to a domestic violence conflict. The man, who had an electronic tag due to a previous domestic violence conviction, was still at large in the woods. "He is athletic and moves quickly," said Francine Bourra, mayor of the village of Lardin-Saint-Lazare in the Dordogne. "Every time there was contact with him, he opened fire. Police told residents of the village to stay inside.
---
Alarming news – The BBC has had issues with Bluetooth proximity sensors meant to help with social distancing. A source said that "we started smoking" and they had to be withdrawn from consumption. "If they can't stand daily use and start to ignite or overheat, they shouldn't be here." Others complained that they continued to operate and were so loud that they disrupted the recordings. A BBC spokesperson said: "We're surprised that a problem with just one electronic device is news…" Now there's a bit of ironic nastiness for you.
Today in Focus Podcast: Avoiding Trump 2.0
Former Obama adviser Ben Rhodes has scoured the world for clues as to how the United States came to elect Donald Trump and he has found parallels everywhere. But is there a way to prevent this from happening again?
At lunchtime, read: " My job shouldn't exist "
The Trussell Trust gave hungry Britons 2.5 million food packages last year. A million were for children. Its CEO Emma Revie talks about the failure of the benefit system, the strains of the pandemic – and her admiration for the people stepping in to help.
sport
Thomas Tuchel plans to move for Romelu Lukaku as he reflects on building a dynasty at Chelsea and forming a side capable of fighting for the Premier League title next season after winning the Champions League Saturday night. Naomi Osaka was fined $ 15,000 (£ 10,570) for refusing to "honor her contractual obligations to the media" following her victory in her first round match at Roland -Garros. Dominic Thiem became the first big name to fall at Roland Garros after losing a two-set lead to lose in five sets to Pablo Andújar in the first round of the men's tournament. Jimmy Anderson approaches the final milestones of his record-breaking career by acknowledging his good fortune when it comes to injuries and emphasizing that his preference has always been to do it the hard way.
After the disruption of 2020, the first Grand Tour of the cycling season marked a return to something akin to business as usual as Egan Bernal won the Giro d'Italia title by a margin of 1m 29s after the Milan closing time trial. Hal Robson-Kanu will not repeat his exploits at the European Championship this summer after being excluded from Wales' 26-man squad for this summer's tournament. Incarnated by the first home fans to populate Sandy Park for five months, the rampant leaders of Exeter proved far too much for Newcastle in a demolition of the 74-3 Premiership. The Harlequins clinched their first Premier 15 title to erase memories of two losses against a Saracens team that had beaten them in the last two finals. And Moto3 rider Jason Dupasquier died of injuries sustained in an accident during qualifying on Saturday, MotoGP reported.
Business
Major Asia-Pacific stock markets fell after Japan reported weaker-than-expected industrial production growth and Chinese manufacturing growth was stable. Benchmarks in Shanghai, Tokyo and Hong Kong fell as Seoul swung between small gains and small losses. It's the Monday public holiday in London, of course. The pound is worth $ 1,419 and € 1,163.
The papers
Our Guardian splash printed today: "Combustible insulation put 70 schools since Grenfell" but the photo slit goes to "newlyweds # 10" and "mixed reception" to their permission to marry in a Catholic church despite Boris Johnson's past divorces. the Telegraph says "No honeymoon for Mr. and Mrs. Johnson," which might sound like a play on the critics, but they're literally not on their honeymoon, at least not right away. Its main story is 'the UK vaccine passport is meant to be scrapped' – there was a big protest over this over the weekend.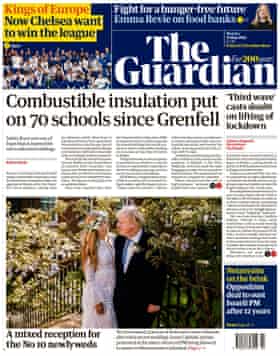 Races and ramps elsewhere. "Vaccines increased in the race until June 21," says the I, while the Time a "Second shots for over 50 years in the race to save June 21" and the Express reports that, yes, a "race" is underway to "double the jab every 50 years by June 21". Splashing with this wedding, the Sun says "Something borrowed" – the dress of Carrie Symonds – and "something blue" – the conservative groom? Oh, they're talking about his tie …
A lick on an ice cream is metaphorically the "taste of freedom" on the front of the Mirror like 'the Brits are heading for the beach' on a hot holiday day. the To post sheds more light on surgery delays which she says are caused by lockouts: "Wait 2 years for hip surgery." And leading the Financial Times: "Cryptocurrency issues are pushing US watchdogs to play a more active role."
Register now
The Guardian Morning Briefing is broadcast to thousands of inboxes early every day of the week. If you don't already receive it by email, you can sign up here.
For more news: www.theguardian.com
Get in touch
If you have any questions or comments on any of our newsletters, please send an email to [email protected]
Source link