A REGIONAL tip is leading the way in showing how remote cameras, data capture and artificial intelligence can dramatically increase the effectiveness of wild dog and swine control programs.
Covering one of Queensland's major grain-growing regions, the Western Downs Regional Council, headquartered in Dalby, has become one of Australia's major centers of intensive livestock production, now home to 42% of the occupancy of lots of cattle in the country, as well as 13 piggeries.
The council is also actively encouraging poultry farmers to also consider the area for future developments, as council representatives said at the TSBE Food Leaders Australia Protein 2022 conference in Dalby last week.
Data from the council shows that intensive farming can lead to increased pest activity, which has reinforced the imperative to increase pest control activities as the local food industry of the livestock grows.
For many years the Western Downs Regional Council's approach to wild pest control was similar to that of many other councils – occasional baiting and aerial shooting campaigns, but less so in terms of effective monitoring work or evaluation to determine success or how strategies could be improved.
"If the definition of insanity is doing something repeatedly while expecting a different outcome, then what defines doing something repeatedly, never knowing the actual results? "said WDRC Rural Services Coordinator Carissa Hallinan at the Protein 2022 conference.
"Too often in pest control, the assessment of the success or failure of a pest control campaign comes from the kill sheet or the amount of effort expended.
"So while this data is usually readily available, it can also be very biased and mislead the assessment process."
It was this lack of understanding and inability to effectively assess its pest management strategies that led the Western Downs Regional Council to change its approach.
Starting from scratch, he has since developed his own program that incorporates state-of-the-art remote imaging and machine learning technology.
Starting with a pilot program involving 10 remote 'black flash' cameras in 2014, the council now uses a network of 120 cameras on a 22 km grid covering the majority of the 3.8 million hectare footprint. advice.
An investment of approximately $1.5 million was made during this period in data capture and analysis and in coordinated pest management activities in the field, working with 1,500 landowners.
The result was the destruction of over 30,000 feral pigs and 10,000 feral dogs, as well as 1,500 hectares of priority weeding.
While cameras remotely capture images in the field, artificial intelligence instantly sifts through images in near real-time, identifying and classifying pests and generating a meaningful report for decision makers in less than a minute.
The system also enables app or email alerts to be sent to landowners when pest species are identified by a camera in their local vicinity, further increasing their engagement and cooperation in the program.
Data is fed into a visual analytics platform that allows trend analysis and statistical information such as heatmaps that can be easily shared.
From the information generated, the council now offers three coordinated community baiting programs in May, August and December each year.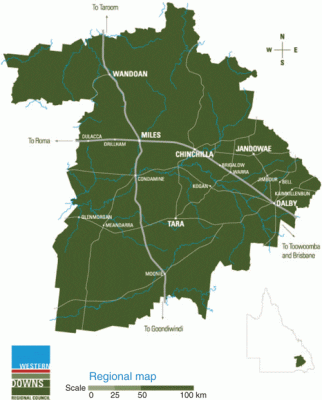 "Western Downs has the data that no one else has and that regional, state and national bodies need and demand," she said.
"The real benefit of monitoring in the living environment is that we can use long-term trends to predict potential pest activity in the future, up to 12 months in advance.
"It's crucial to move decision-making from reactive to proactive, perhaps even preventing impacts before they happen."
Ms Hallinan said previous surveys had estimated the Western Downs region had between 19,000 and 150,000 feral pigs at any one time.
The council's own camera data has demonstrated that where intensive farming exists, feral pig populations can increase in numbers by 1800 per cent.
In dollars alone, the costs of this pressure are just as great.
Consider that a 50 kg wild hog has a livestock unit value of 0.28 for a 430 kg steer.
Based on this information and working with relatively conservative market prices, an analysis showed that the cost of a single pig to a rural business in the region is approximately $602 per year.
Data shows that aerial shooting campaigns, at a cost of around 20c/hectare or $40 per pig, produced a return on investment of around 1400 percent.
"(Surveillance) is really the winning combination," she said.
"Coordinated strategic control and landscape-scale surveillance with artificial intelligence is easily transferable to other regions.
"The increased level of interest and engagement, coupled with real evidence of impact through camera monitoring and data collection, would provide tremendous benefits if replicated across the state. "
Managing Director of TSBE Food Leaders Australia Bruce McConnell said the investment helps ensure the viability of intensive animal industries and, more broadly, the protein sector in the region.